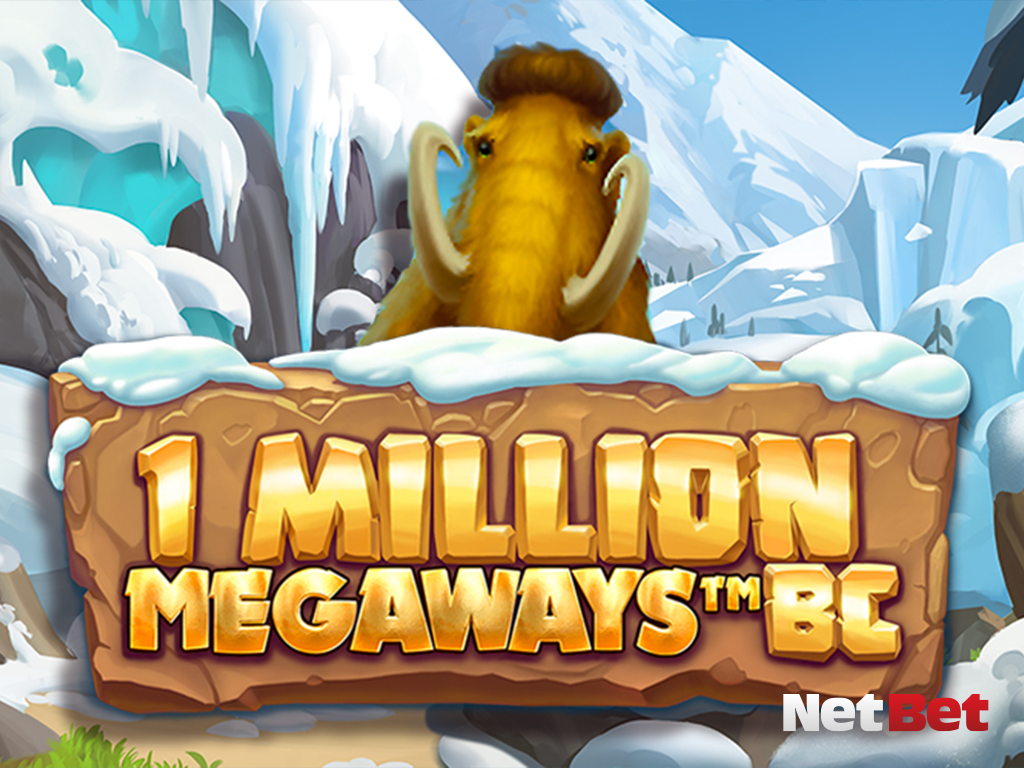 Super powers, are they real or are they fake? This question is difficult to answer but if we are to base our conclusions on novels as well as films and movies, then the answer will simply be yes, super powers are real. This necessitated by the presence of numerous novels, films and movies that expose the life of people possessing super powers talk of Batman and Spiderman amongst many others. Well, Iron Dog Studios in its latest slot game 1 Million Megaways BC has just expanded the 'literature' on the presence of people possessing super powers as the game is inspired by the time travelling super power.
NetBet Casino offers a whole range of casino games ranging from online slots, table and card games to live casino games, plus a huge number of the best slot games on the market including, of course, 1 Million Megaways BC!
Once the six reels of 1 Million Megaways BC slot start spinning, players virtually time travel back to the Ice Age. Once there, they get to experience life living in caves and having to survive on hunting and gathering. Will you be able to command such a life? Well, this is exactly what you get to see for yourself once the action starts. While the theme and plot of this online slot will certainly draw players to the game, it's important to highlight the fact that as a Megaways slot, 1 Million Megaways BC is one of the most enterprising games on the market. During gameplay, the number of ways to win will randomly change on each spin from a low of 64 to a high of 117,649! There are a multiplicity of bonus features epitomised by the cascading reels feature which makes it possible for the player to land consecutive winning combinations one after the other!
One important thing to note about this online slot game before players start their gaming adventure is the fact that it's a high volatility game. As such, when spinning the reels, win lines may not pop up frequently on the reels but when they do, some excellent payouts will be spilled the highest of which stands at 45,000x the current stake!
How to Play 1 Million Megaways BC
The action available in 1 Million Megaways BC slot is accessible both by players who just like spinning the reels for fun as well as those who like spinning the reels for real. When it comes to the former, Players simply need to opt for the demo mode. When they do, free credits are availed and these can be used to start spinning the reels for fun. For those falling in the latter group, they ought to know that real money wagers are required before the reels can be spun. On this front, the minimum that players need is 0.20 coins per spin while the highest stands at 20.00 coins per spin.
The gaming pleasure when playing this online slot machine can be maximised when the player tweaks some settings according to his/her preferences. Settings that can be tweaked include the Auto play feature, Turbo feature, sound effects as well as the left-hand mode.
Bonus Features
Hitting the Spin button after every spin may become monotonous at times. As such, to break this monotony, 1 Million Megaways BC slot comes with a multiplicity of bonus features. These are as follows:
Wild – an icon which is inscribed WILD possesses the substituting powers when playing this game.
Scatter icon – there isn't any scatter symbol encountered during a gaming session.
Tumble Feature – this online slot uses the Tumble format. What this entails is that after landing a winning combination, pays are awarded and the symbols involved in the win line are removed. Once removed, they are replaced by new symbols tumbling down from upward positions. When all positions have been filled, evaluations are done and if there are any win lines in sight, pays are awarded and the cycle continues. The cycle continues for as long as new win lines keep popping up.
Base Game Multiplier – When the player lands a winning combination and the Tumble Feature initiates, a 2x multiplier is awarded. This multiplier will increase by 2 with each successive winning tumble. The maximum multiplier that can be awarded here is 8x. The multiplier resets at the end of a winning sequence or when the Free Spins round starts.
Free Spins Feature – Getting four or more successive tumbles helps the player trigger this feature. 8 free spins are awarded for the initial four successive tumbles but more can be awarded if the tumbles keep increasing at a rate of 2 free spins for four successive tumbles.  During this feature, a 7th mammoth reel appears in-between the 3rd and 4th reels. Any of the reels with 7 symbols during this feature will lock and remain as is for the entirety of the free spins round. Each locked reel will also award 1 extra free spin. The mammoth reel only locks when it has 9 symbols and when it does, it awards 5 extra free spins.
Sticky Wild – The sticky wilds inscribed STICKY WILD may appear on the mammoth reel during the free spins round. Sticky wilds remain locked till the end of the feature and can substitute for any other standard symbol.
Play 1 Million Megaways BC on Mobile
Iron Dog Studios in developing this online slot machine made it possible for players to access the game across several platforms. This, in essence, meaning the game can be accessed on both the desktop as well as on mobile devices.
1 Million Megaways BC Demo Mode
Playing 1 Million Megaways BC slot for fun is possible thanks to the free credits awarded to players by the game developer. This is made possible thanks to the incorporation of the demo mode. Players however, ought to know that even if they prefer playing in the real money mode, they can initially play the demo mode to learn more about gameplay rules and instructions before they start risking their own money.
The Bottom Line
Time travelling is one ability that most people aspire to have. This necessitated by the fact that some people have past regrets that they would want to correct while others simply want to enjoy one great moment once again possibly with fallen friends and family. Well, on this front, players ought to know that 1 Million Megaways BC slot affords them the opportunity to time travel but only to visit and experience the way of life during the Ice Age. Those who fancy this will definitely love the game. Coming as a Megaways slot, players ought to know that the game is quite lucrative as it features a multiplicity of highly enterprising bonus rounds.
If you've enjoyed this article and are keen to play any of our slot games, then register with NetBet Casino via your mobile, tablet or computer. NetBet Casino offers a whole range of casino games ranging from online slots, table and card games to live casino games.
Remember to always gamble safely. For more information on responsible gambling and to learn more about tools available for our players, please visit our Responsible Gambling page in our Help Centre.